Welcome to my new web site designed and developed by my friends at DANIMA Creative Group up there in Canada, eh?! So now we have a brand new, mobile friendly, modern web site and I also have a brand new CD, "It's In My Song" out and I'm looking for your support (see below)!
"To hell with the fact that Joe Grushecky is just a "singer/songwriter from Pittsburgh." That way of thinking is too narrow-minded.
I'm here to tell you, Joe Grushecky is an American institution! Don't believe me? Then listen to Grushecky's latest solo release, "It's In My Song", from beginning to end.

The clouds will part, the haze will disappear, and your ears will finally understand.

Joe explores family relationships, personal struggle, growing old but staying young, and best of all--how so many things we "tuned out" as kids, return again and again as our foundation for the future.
Kudos Joe! You painted a masterpiece."

-Cornel Bogdan. Tangled Up In Blues
IHeart Media-Youngstown, Oh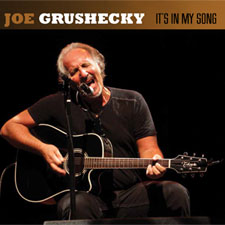 My new cd "It's In My Song" is now available for purchase. I have gone back through my entire catalog to re-record some of my songs that feature my favorite lyrics in addition to two new songs. This is the first album I have ever done without and electric guitar. My dear friend and partner Rick Witkowski and I produced it. The cd was truly a labor of love and features Ed "The Thin Man" Manion on saxophone on several tracks.
The music industry as I knew it no longer exists and these days artists like myself have to go directly to the fans in order to be able to create and record new music. I am humbly asking for your support on this new album. Here are some of the ways you can help.
New cd "It's In My Song" with digital download/ $15.00

Autographed cd with digital download/$25.00

Autographed poster of cd art work/ $50.00

Handwritten lyric sheet of any of my songs/$100.00
Head over to our on-line store now! Thanks for your support!!!
Peace Love Soul Rock n Roll,
Joe Grushecky